Alan Chenkin
, Member of NAWCC (Nat'l Assoc of Watch and Clock Collectors
Wooden watches are nothing new – there are woods that have tight grain and are machinable to close tolerances, which make for a solid, attractive, and wear-resistant wood case for a timepiece.
Many of the new watchmakers use wood as an artistic medium, and put solid movements and dials in the watch to make a very appealing watch.
If you go to the website of the National Association of Watch and Clock Collectors (

http://www.nawcc.org

) you can see many fine examples of wooden clocks and wristwatches, mostly antique and historic.
A well-made and sharp looking watch is an accessory that shows your attention to classy details, and makes a wonderful conversation piece. If watches are your thing, consider adding a wooden watch to your personal collection.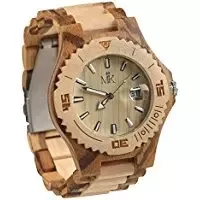 Many wooden watches have low price tags, and quality Quartz movements, and unique style.  This makes for a great occasional watch.  Wooden watches are conversation pieces, like wooden Briefcases, and add a nice complement to your appearance.
Thank you for reading my blog!  Feel free to share!