The short answer is yes, as long as you have solid support for the mounting bracket.
But (you guessed it) I have some caveats:
Mounting the TV above the fireplace may position it too high for comfortable viewing; Neck strain is not fun, so that is a concern. If the TV is a good distance from the seating, or above a low fireplace, then you might be OK. The TV should be at eyeball level or slightly above, for best viewing angle.
If the fireplace throws off a lot of heat, and there is no mantle to deflect some of it away from the TV, The heat can have an adverse effect on the electronics over time.
Wiring. Despite the fact that TV's are becoming wireless, you may have to deal with a power cable, HDMI cable, optical (sound) cable, and additional cables for DVD players, Cable boxes, and TV receivers like the Amazon firestick. Plan for having wires, and running them inside the wall or in a wire management system. I also suggest having a good surge/power strip or a serious UPS (power supply) – our power grid is aging and you don't want it to "take down" your expensive OLED 4K TV due to power fluctuations.
SOUND. Flat screen TV's are notorious for flat sound; I almost always recommend a sound bar with a subwoofer – you want to hear the sound emanating from the direction of the TV, with a subwoofer on the floor or mounted near the seating area. Rear speakers are good to get surround sound into your "sound field". I have clients who mounted speakers in the ceiling; this is really bad as you are disoriented with a visual image in front of you with the sound coming from above. I appeal to your common sense – NEVER DO THIS.
From the Web:
Want to Mount a TV Above a Fireplace? Read This First | Bob Vila
Installing a TV Above the Fireplace
Where to Put the TV When You Have a Fireplace
So there you have it – you can mount a TV over the fireplace, but it may not be ideal – explore all your options before proceeding!
FYI – This is the Big Screen" at my "Man cave":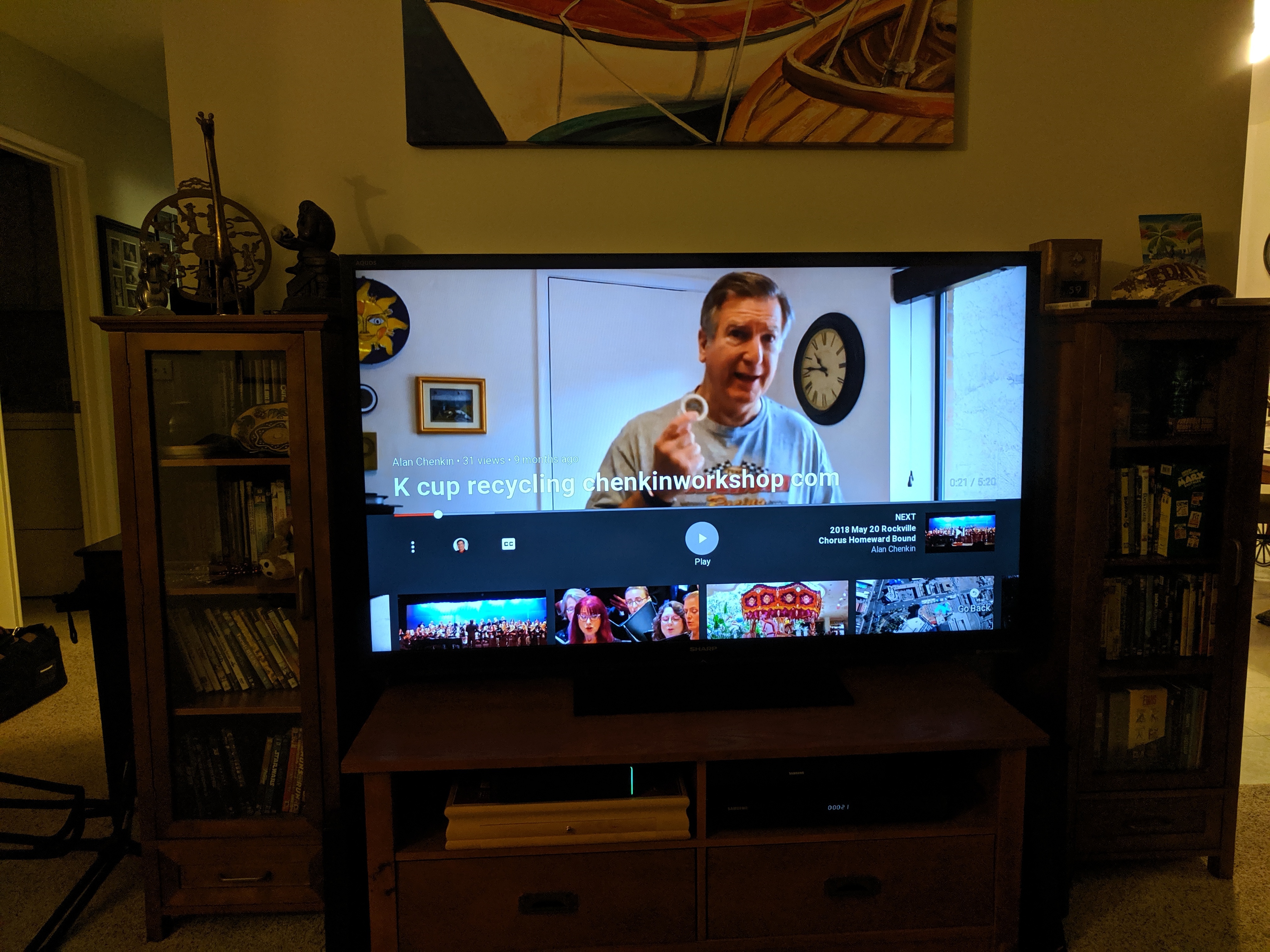 60″ Sharp Aquos 3D TV with Samsung 3D Surround sound sitting on media console (big UPS is behind screen). Wireless subwoofer and rear speakers next to recliners. Center of TV is at eyeball height when seated on recliners across from TV. Image is of me describing a prototype k cup recycling device.