By Alan Chenkin, Uses glue all the time, for fun and woodworking projects
For light duty, regular super glue / Crazy glue will suffice.
Be careful not to get it on your hands, it can glue your fingers together!  (Hint – use nail polish remover to break it down or remove it.  Nail Polish remover is made with a solvent called Acetone).
If you need something stronger, use a 2-part Epoxy
Epoxies may take 5-10 minutes to set, but they are strong and durable when fully cured.  Use Epoxy with care, and make sure the surfaces to be glued are clean as possible.
Contact Cement – For bonding material with a larger surface area, like laminates: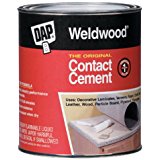 Contact cement is applied to BOTH surfaces to be bonded, allowed to dry until tacky, then the surfaces are pressed together (you only get one shot – Contact cement is a "Glue to Glue bond", and sticks fast and holds tight).  
Contact cement is applied with brush or roller, sticks to everything, like your fingers, so you have to be really accurate.  
Contact cement also requires a clean environment, you have to keep any dust or dirt from being caught under the material!  You also have to have good ventilation, and solvent to clean up.
Make sure the adhesive you use is compatible with the items you are gluing!
Thank you for reading my blog – I hope you enjoy it and find it informative! – Feel free to share!