Alan Chenkin
, Carpenter and "how to do it" guy. Making dreams happen with tools….
A door made of solid wood is both heavy and expensive; by using a cardboard honeycomb in the door, it is made lighter and less expensive to manufacture.
The bedroom door is an interior door, so there is no insulation, just a wood frame, covered with door skins (thin but ridged plywood sheets), and a cardboard honeycomb to keep the door rigid and resistant to warpage.
BTW, if you are in a rental unit, instead of replacing the door, you can purchase a door skin from a local lumberyard or "big box" store, and glue it over the damaged face of the existing door.  Stanley's Complete doors and Windows, paperback, on Amazon.
Use one of these protectors to prevent the door knob from making a hole in the wall adjacent to the door. (They just stick on, easy to install).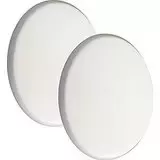 Tapix Door Knob Wall Protector Plate – Will Also Conceal Damaged Walls – 5″ – White – 2 Pack
Thanks for reading my blog, and feel free to share!