Alan Chenkin, Owned a cabinet shop for 10 years, is an avid woodworker.
Dowels are practical and make a lot of sense if you are comfortable with the precision and time necessary to make the dowel joints. In a tournament chess set, the squares are 2″, and each would require sequential assembly with 2 dowels for each side of every square. You can use fewer, but that would give you less surface area for gluing, and less resistance to warp and coming apart. 
My preference would be to use splines, which increase the gluing area and are more forgiving than dowels. You will still need to sequentially assemble the chess board, but you can cut the splines and the grooves with a table saw to save a lot of time.
Biscuit joints can also be used, but you are adding more time to the assembly, and each hole must be cut individually for the biscuit.
For additional reading, consider "The Joint Book: The Complete Guide to Wood Joinery", available on Amazon.
All About Spline Joints – FineWoodworking
Spline joint – Reinforcing Woodworking Joints – Table Saw guide
Spline joints are one of my favorite joints. They are fast to fabricate, and do a good job of increasing the glue surface area for optimum strength and durability.
Here is a picture of a chess/dining table that my father built in the 1970's:
The table is Maple and Walnut, and was refinished by me in 2015. The squares are 2″, and the overall dimension (including frame) is 42″ square.  Here it is, in the Man cave dining room: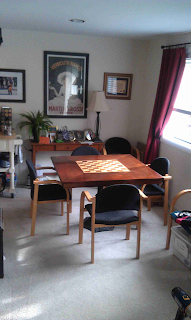 My Father, Morton Chenkin, was an Industrial Arts teacher at Thomas Edison High School, in New York City.  I believe he built this in the '70s.  I also have the wooden Checker pieces he made, and a set of onyx chess pieces from Mexico.  Like most pieces he made, this table is built like a brick chicken coop! 
Thank you for reading my blog!  Feel free to share!