When you are painting or just hanging a sign, you don't want the tape to rip the paint off your wall.  It's unsightly and sometimes difficult to repair.  Avoid Duct tape, flex tape, most scotch tapes, and packing tapes.
Masking tape is not the best. It gets old, and the sticky glue can rip paint off a surface too easily, especially if you press it hard and it bonds to the paint.  This doesn't mean it won't work, just that it is not "the best".  You have to use your judgement, and decide what option you are going to go with.
My best experience is with Blue Painters tape and Frog tape (images and links from Amazon: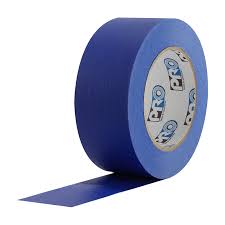 ProTapes Pro Scenic 714 Crepe Paper 14 Day Easy Release Painters Masking Tape, 60 yds Length x 1″ Width, Blue (Pack of 1): Amazon.com: Industrial & Scientific
And their "Delicate Version": Shurtape Technologies Frogtape 217143 Multi-Use Delicate Surface Paint Block Tape, 36mm x 55m, 1-1/2-Inch x 60-Yard – Painters Masking Tape – Amazon.com
There are lots of brands that make Painters tape – 3M, Scotch, etc., and most all will work. Try to use fresh tape whenever possible, and don't leave it on more than a few days at most.  Some tapes advertise that they can be left on for 30 days.
If you need to put up a hook that can come down without marring the wall, you can get these: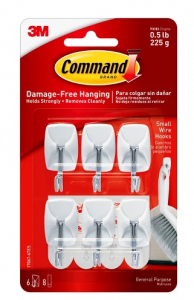 Command Hooks, available on Amazon, eBay, or at your local big box or hardware store.  I use them for picture hanging, and keep an organizer box full of them in my van.  Small ones don't carry a lot of weight, so pay attention to  the weight of what you are hanging.
Here are more tips:
Tips for How to Use Painters Tape – Family Handyman
How-to Use Painter's Tape for Interior Painting – Behr Paint
Best of luck with all your painting projects!
I hope you found my point of view enlightening and informative.